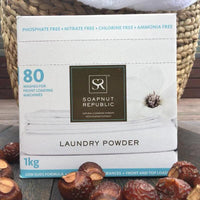 Laundry Powder - Fragrance Free
Designed for top loaders, front loaders and hand washing, our low suds formula is concentrated so only a small amount is required to achieve extremely effective results. Powered with biodegradable soapnut powder, and enhanced with high quality plant and mineral ingredients, it is the safest choice for your family and the environment. 
Ingredients
Sodium Carbonate (Washing Soda), Sodium Citrate (Citrus), Sodium Bicarbonate (Baking Soda), Sodium Sulphate, Capryl Glucoside (Plant Based Surfactant), Sodium Carboxymethyl Cellulose (Cellulose Gum), Sodium Oleate, Sodium Aluninosilicate (Zeolite), Soapnut Berry (Sapindus Mukorossi) Extract, Sodium Polyaspartate


How to Use
Suitable for use with hot or cold water. Add 1/2 scoop (for Front Loaders) and 1 scoop (for Top Loaders) to your machine's dispensing unit and set to desired cycle. For hand washing, dissolve 1/2 scoop in 5L of water - soak for an hour or overnight for tough stains. The Low Suds Formula is concentrated so you only need to use a little to effectively clean clothes.